Nelson County is located in Central Virginia midway between the metropolitan areas of Charlottesville and Lynchburg. The county has a total area of 471 square miles. It is bordered on the south and east by the James River and on the north and west by the Blue Ridge Mountains. A large portion of the western section of the county is in the George Washington National Forest.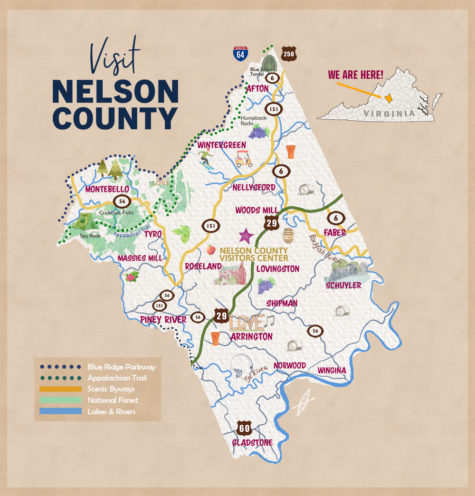 Located in the geographic center of the state, Nelson County is approximately two hours from Richmond, three hours from Washington, D.C. and four hours from Charlotte, North Carolina. The elevation ranges from about 500 feet above sea level near the James River to more than 4,000 feet in the Blue Ridge. The climate is moderately warm in the summers, with temperatures averaging about 77 degrees in July. Winters are moderately cool, with temperatures in January averaging about 38 degrees. Average annual precipitation is about 42 inches.
Government
Nelson County has a County Administrator, a five-member Board of Supervisors and seven-member Economic Development Authority. The county has a comprehensive plan and zoning and subdivision ordinances. Lovingston is the county seat. There are no incorporated towns within the county.
History
Nelson County was formed in 1807 from Amherst County, and named in honor of Thomas Nelson, Jr., third governor of Virginia. Originally the home of the Monocan tribe of Native Americans, a settlement along the James River was established by English colonists in the early 1700s. Another stream of settlers, of Scotch-Irish and German descent, came into the western sections of the county from the Shenandoah Valley. By the end of the 1800s, Nelson's agricultural products included tobacco, apples and chestnut trees; the produce and lumber were carried to market by canal and railroad.
During the 1930s Earl Hamner, Jr. began writing of his experiences growing up in Nelson County during the Depression. Those writings eventually provided the substance for the The Waltons TV series. In 1969, Hurricane Camille caused a flood, devastating Nelson County. Since Camille, Nelson County has slowly recovered its land, its infrastructure and the will to grow and prosper again. Events that have aided in this recovery include: the 1972 development of Wintergreen Resort, the restoration in progress at Oak Ridge Estate, development of Walton's Mountain Museum, the resurgence of the apple industry, the maturation of new vineyards, and the steady growth in Nelson County's tourism industry.